HOW TO USE A FRENCH PRESS TO MAKE THE PERFECT COFFEE
What is a French Press?
The French Press is a cylindrical pot with a plunger and built-in filter screen that presses hot water through ground coffee: that's the simple beauty of the French press, creating an earthy, rich taste in your daily cup of coffee.
FRENCH PRESS INSTRUCTIONS
Start by placing the French Press on a dry, flat surface. Hold the handle firmly, then pull out the plunger.
Next, add a heaping tablespoon (7-8 grams) of medium-coarse grinds to the pot per 6.7 oz (200 ml) of water. Or a 1:12 coffee grind to water ratio
Then, pour hot water—not quite boiling (at or about 200° Fahrenheit)—into the pot, and gently stir.
Now, carefully reinsert the plunger into the pot, stopping just above the water and ground coffee (do not plunge yet), and let stand for 3-4 minutes.
Lastly, press the plunger down slowly, exerting steady pressure.
After each use, wash the pot with water and mild detergent, and dry thoroughly.
PRO TIPS
What is the perfect French press coffee ratio for making great coffee?
The perfect French press coffee ratio is generally considered to be 1:12, meaning one part coffee to 12 parts water. However, this ratio can be adjusted to suit your personal taste preferences, as some people prefer stronger or weaker coffee.
How much coffee do you put in a French Press for 2 cups?
The amount of coffee to put in a French press for 2 cups will depend on the size of your French press and the desired strength of your coffee. As a general guideline, a French press that makes 2 cups (or 12 oz) of coffee will require about 14 to 16 grams of coffee grounds. This is equivalent to about 3 to 4 tablespoons of coffee. So the ratio of coffee to water is roughly 1:15.
What kind of coffee is best for French press?
French Press coffee brewing is usually complemented by medium to dark roasts. If you prefer to add milk and sugar to your coffee, the dark roast will go well with the French Press. The rich, earthy and chocolatey flavors of the coffee are further enhanced by a touch of milk.
PERFECT FOR ALL PREPARATIONS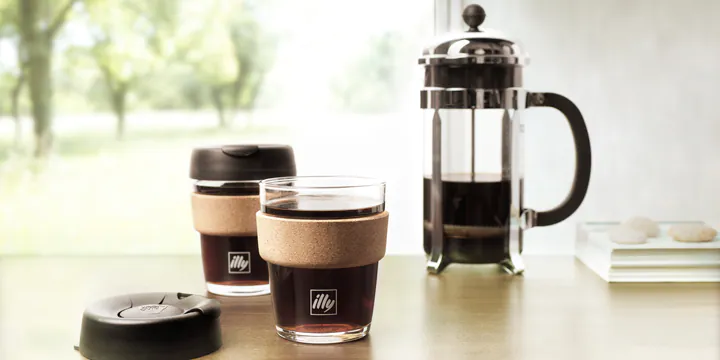 THE SECRET IS ALL IN THE GRIND
Choose a medium grind with uniformity and consistency throughout. Very coarse grinds may clog the filter, while very fine grinds will pass through the filter, muddying the results.
Choose the right tools for making a perfect French Press coffee. Press like a pro with our selection of French Press Coffee Makers & illy Ground Drip Coffee, ground to the perfect coarseness to press like the best.
One of the most popular french press coffee makers is the Bodum® Chambord French Press, known to make cafe quality coffee in the comfort of your home.
SHOP NOW
LEARN ABOUT MORE PREPARATIONS